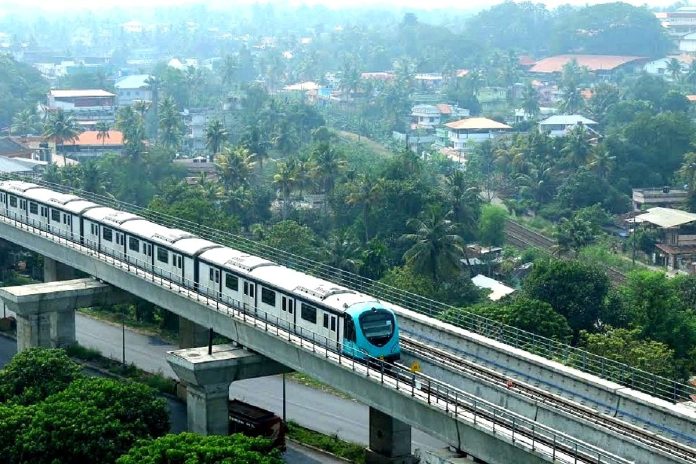 The prospect of introducing metro rail in Thiruvananthapuram, the capital of Kerala, modelled after the successful Kochi metro, is edging closer to reality.
The Kochi Metro Rail Limited (KMRL), responsible for executing the project, has enlisted the Delhi Metro Rail Corporation (DMRC) to prepare a Detailed Project Report (DPR) within three months.
The new DPR will undergo scrutiny by KMRL, then be submitted to the state government and, subsequently, to the central government for final approval.
The state government is currently reviewing the Alternative Analysis Report (AAR). The AAR recommends implementing a conventional or medium metro model, following the pattern set by the Kochi Metro.
Previously, there was a proposal for a light metro or metro lite in Thiruvananthapuram. The AAR, compiled by the Comprehensive Mobility Plan (CMP) in August, will guide the DPR by defining the alignment and solidifying the model for the proposed metro rail.
According to the CMP, the metro's alignment is envisioned to span from Pallipuram to Pallichal in Phase 1, and from Pallichal to Neyyattinkara in Phase 2.
This comprehensive plan also incorporates the National Highway bypass, making the rail project considerably extensive.
The New Indian Express report also indicates that phase 1 may be extended to Attingal, in consideration of future transportation needs.
A stakeholder meeting in July delved into the draft Comprehensive Mobility Report (CMP) developed by Urban Mass Transit Company (UMTC) Limited.
The CMP identifies the need for an extensive overhaul of the city's traffic system and parking facilities. It highlights high-demand mobility corridors in the district that are pivotal for the proposed system's success.
The Thiruvananthapuram metro rail project was conceptualised in 2012, and by 2014, the first project outline was submitted by the DMRC.
Priority corridors
The first priority corridor spans 27.4 kilometres, running from Technocity (Pallipuram) to Pallichal via Karamana and Nemom.
The second priority corridor stretches 14.7 kilometres from Kazhakootam to Killippalam via Enchakkal, serving commuters reliant on the NH66 bypass.
Additional extension corridors in phase 2 cover routes from Pallichal to Neyyattinkara (11.1 kilometres), Technocity to Mangalapuram (3.7 kilometres), and Enchakkal to Vizhinjam (14.7 kilometres).