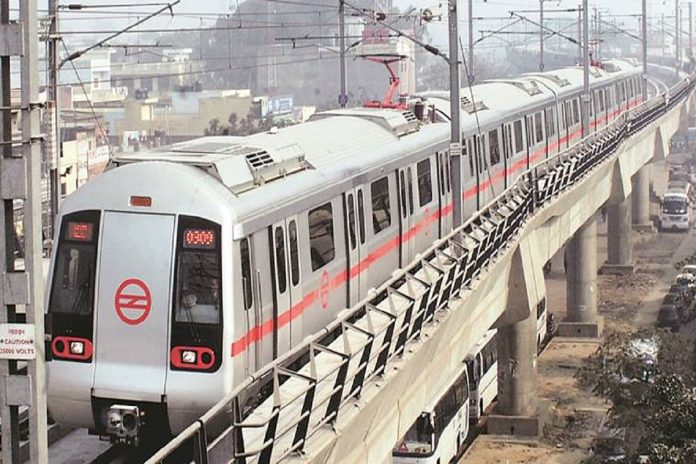 Delhi Metro Rail Corporation (DMRC) has announced the expansion of its innovative WhatsApp-based ticketing system.
After a successful launch on the Airport Express Line in May this year, DMRC has now extended this cutting-edge service to cover all lines in the Delhi-National Capital Region, in collaboration with Meta and their authorised partner Pelocal Fintech Pvt. Ltd.
The vision of DMRC aims to make the commuting experience in Delhi Metro a 'customer's delight'.
Since its introduction on the airport line earlier this year, passengers have been experiencing the convenience of this service.
Passengers can now simply send a message with the text 'Hi' to the number +91 9650855800 on WhatsApp or scan the provided QR code, to effortlessly purchase metro tickets using their smartphones across the whole network.
This user-friendly WhatsApp chatbot is available in both English and Hindi, catering to a wide range of metro riders. The service now extends its reach across the entire DMRC network covering all stations, including Gurugram rapid metro corridor.
With the introduction of this WhatsApp-based ticketing system, metro travellers now have the convenience of purchasing tickets with just a single click, from the comfort of their homes or workplaces.
Recognising that purchasing tickets is a pivotal part of the overall commuting experience, DMRC has introduced this strategic initiative aimed at enhancing the ease of booking tickets for all Delhi Metro travellers.
The core principle guiding this programme is the diversification of ticket procurement channels through various digital modes, including UPI, credit/debit cards and more.
DMRC is committed to simplifying and modernising the ticket booking process, ensuring passengers have a convenient and hassle-free experience.
In recent times, DMRC has rolled out multiple initiatives such as QR ticketing via the mobile app, ticket vending machines, ticket windows, WhatsApp (on the airport line), and PayTM or PhonePe (on the airport line) — all of which accept popular digital payment methods.
Commenting on this initiative, DMRC manging director Vikas Kumar, stated, "Providing metro commuters with the option to purchase metro tickets through a simple chat will significantly enhance their travel experience. WhatsApp is the preferred messaging platform for the majority of Indians, and buying a metro ticket will now be as easy as messaging a friend or family member. We are confident that this integration will encourage more commuters to choose the Delhi metro as their preferred mode of travel."
Ravi Garg, director, Business Messaging, Meta in India said, "Our goal is to simplify the transit experience for WhatsApp users, and this is another step in that direction. Every day, millions of commuters rely on the Delhi metro to reach their desired destinations, and we are thrilled to provide this ticketing experience within their WhatsApp chats."
Key Features Of The WhatsApp Ticketing Service:
Up to a maximum of six QR tickets can be generated by a user in a single time.
Tickets can be booked between 6 am to 9 pm for all lines and from 4 am to 11 pm for the Airport Line (Orange Line).
Ticket cancellations are not allowed in WhatsApp Ticketing.
A marginal convenience fee will be applied to transactions made via credit/debit card, while no convenience fee will be charged for UPI-based transactions.
Delhi Metro's WhatsApp-based ticketing system across all lines promises to revolutionise the way metro tickets are purchased, offering commuters a hassle-free and efficient way to travel.
DMRC remains committed to continually enhancing the metro experience for its passengers, and this collaboration with Meta is a testament to that commitment, stated the DRMC.