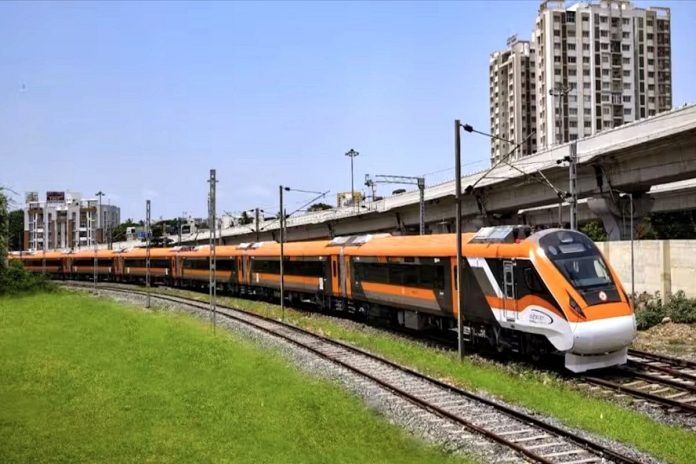 Karnataka is to get its third Vande Bharat Express service on 25 September, establishing a vital link between the tech hubs of Bengaluru and Hyderabad, as announced by railway officials.
This premium semi-high-speed train is expected to cover the 609.81 km distance between Yeshwantpur and Kacheguda stations in 8.30 hours, maintaining an average speed of 71.74 kmph.
Stoppages are proposed in five places which are Mahabubnagar, Kurnool, Anantapur, Dhone and Dharmavaram.
However, it's worth mentioning that this Vande Bharat Express won't make stops at any other stations within Karnataka. Some railway enthusiasts had hoped for a route through Raichur with a stop at Yelahanka, but this is not part of the plan.
The trail run was scheduled for today (21 September).
Notably, this new service is one hour faster than the current fastest train, the Duronto Express.
The South Central Railway (SCR), headquartered in Secunderabad, will operate this train, with its primary maintenance facility situated at Kacheguda.
The official flag-off ceremony is scheduled for 24 September at Kacheguda, with stops at major stations along the route that day. Commercial operations will commence the following day, according to an SCR official.
Kusuma Hariprasad, Additional Divisional Railway Manager of Bengaluru's South Western Railway (SWR), expressed hope that this new service would provide a faster and more comfortable transportation option for the thousands of passengers who travel between these two cities daily, as per Deccan Herald's report.
Exact timings and fare details are yet to be announced by the Railway Board.
The upcoming Vande Bharat Express service between Bengaluru and Hyderabad marks the third addition to the Vande Bharat Express fleet for both Karnataka and Telangana.
In Karnataka, the first two Vande Bharat trains currently run between Mysuru and Chennai via Bengaluru, as well as between Bengaluru and Dharwad. These services have already been contributing to improved connectivity within the state.
For Telangana, the first two Vande Bharat trains connect Secunderabad with Visakhapatnam and Tirupati, enhancing rail travel options for passengers in the region.