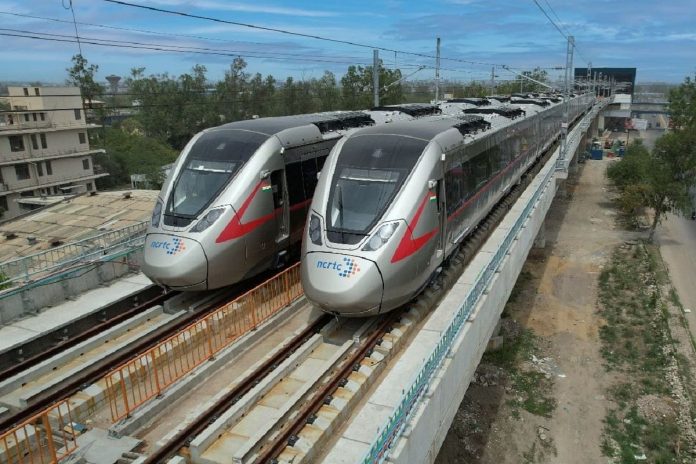 In line with speeding up development along the upcoming Regional Rapid Transit System (RRTS), the Uttar Pradesh government has urged the Ghaziabad Development Authority (GDA) to introduce projects on nearly 10 hectares of land around the corridor.
These areas have been designated as the influence zones of RRTS and special development areas (SDAs) — which have been outlined in the draft Master Plan 2031.
The draft Master Plan 2031 includes separate plans for Ghaziabad city, Loni, and Modinagar/Muradnagar.
The GDA board is yet to approve the individual plans for Ghaziabad city and Loni, while the plan for Modinagar/Muradnagar was approved last Saturday (30 September) , reports Hindustan Times.
The zonal plan for Ghaziabad and Loni is expected to be finalised and approved at the next board meeting.
According to Rajesh Kumar Singh, secretary of GDA, "The state government has asked us to meet with various stakeholders so that they can bring in projects of at least 10 hectares in the influence zones of RRTS stations as well as the two proposed SDAs. We had the meeting and are waiting for a response."
"The NCR transport corporation (NCRTC), which is executing the RRTS project, will prepare the zonal plans for the transit-oriented development (TOD) zones influence zones and SDAs," he added.
In the plan, the GDA has proposed allocating approximately 1,060 hectares for two SDAs — 510 hectares in Guldhar and 549 hectares in Duhai. These two SDAs are strategically located near RRTS stations.
Additionally, the authority has designated a total of 5,601 hectares of transit-oriented development (TOD) zones around mass transit system lines, including seven RRTS stations.
This includes 4,044 hectares along the RRTS stations and 1,553 hectares along the Metro's Red Line corridor in Ghaziabad — from New Bus Adda to Dilshad Garden.
According to authorities, in 2022, the Uttar Pradesh government introduced a new policy which designates TOD zones for the construction of various types of buildings, including residential and commercial structures.
These zones include areas situated within a 1.5 km radius of RRTS stations and within a 500 m radius of mass transit lines.
Furthermore, the authority has proposed the inclusion of Duhai Depot as Ghaziabad's eighth station. This would expand the TOD area and create another zone of influence for development.
Following earlier reports, the NCRTC is also seeking partners to build multilevel commercial areas above its RRTS stations — including the Sarai Kale Khan and Anand Vihar stations.