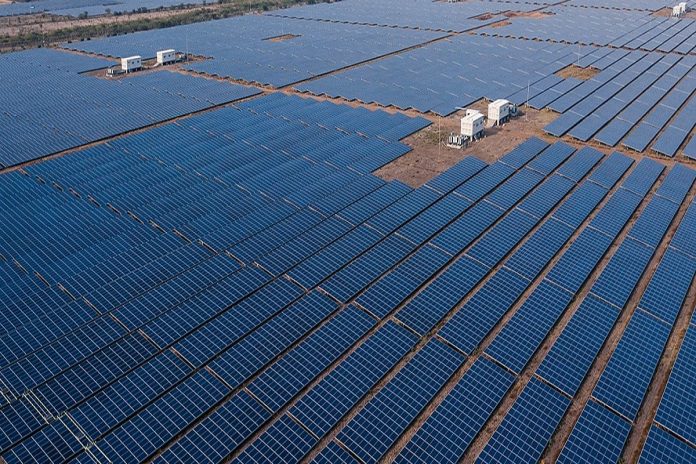 The Adani group is aiming to expand its integrated solar manufacturing capacity to 10 giga-watt (GW) by 2027, in order to capitalise on the growing energy transition market, as per several reports.
Currently, Adani Solar already has a solar manufacturing capacity of 4 GW. With this new plan, the group intends to increase its capacity by 2.5 times.
Adani Solar has secured a confirmed order book of over 3,000 mega-watt in exports, which will be fulfilled within the next 15 months.
To support its solar manufacturing efforts, Adani recently raised $394 million from Barclays PLC and Deutsche Bank AG through a trade finance facility.
This expansion by Adani group will play a significant role in boosting India's solar energy generation capacity.
Adani Solar has established the largest solar photo-voltaic capacity for cells and modules in India at the Mundra SEZ.
Since its inception, it has sold over 7 GW of modules, meeting the demands of both the domestic and global markets.
Despite the country's progress in increasing its capacity from 2.63 GW in March 2014 to 71.10 GW in July 2023, the lack of a strong manufacturing ecosystem has been a major obstacle.
To bring about change, the government implemented various measures, including both trade and non-trade barriers.
These included the use of safeguard tariffs, an approved list of module manufacturers, and a production-linked incentive (PLI) scheme.
Consequently, the Indian solar manufacturing sector received the necessary boost to attract private investors like the Adani Group to scale up investments in solar manufacturing.
In 2016, Adani Solar began its manufacturing operations with a capacity of 1.2 GW for both cells and modules.
In a short span of less than six years, the group has managed to expand its manufacturing capacity to 4 GW for modules and 4 GW for cells. This growth rate has positioned Adani Solar as one of the fastest-growing solar manufacturing companies in terms of capacity expansion.
For its ambitious expansion targets, the group is currently constructing a fully-integrated and comprehensive solar manufacturing ecosystem in Mundra, Gujarat.
By 2027, this facility aims to achieve a capacity of 10 GW, making it the largest manufacturing set-up within the Adani Group. The project is also expected to generate more than 13,000 green jobs.