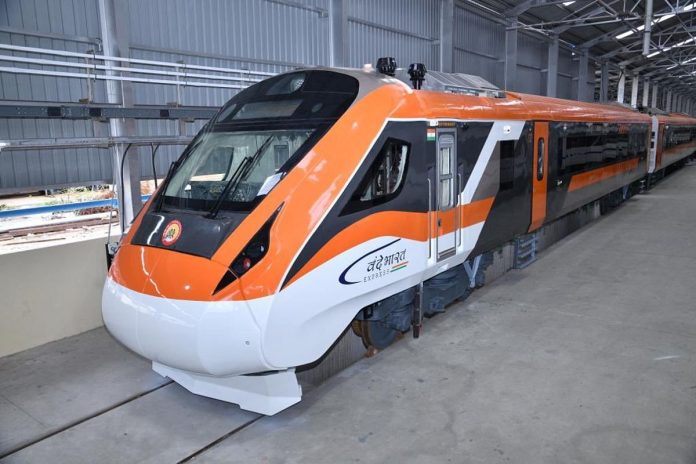 Prime Minister Narendra Modi is slated to flag off nine Vande Bharat trains, a record launch in a single day, for various destinations, including poll-bound states of Rajasthan and Madhya Pradesh on 24 September.
New Vande Bharat trains are being launched after nearly two months since flagging off the Gorakhpur-Lucknow Vande Bharat Express and Jodhpur-Sabarmati Vande Bharat Express on 7 July.
The Prime Minister would be launching the new trains in virtual mode from New Delhi.
The first Vande Bharat Express, in orange colour, will go to South India as Kasaragod-Trivandrum route is being considered for the launch of a Vande Bharat train with the new colour scheme.
While eight Vande Bharat trains are in the blue-white colour combination, the ninth one is being rolled out in an orange and white combination. There are plans for 10 more orange-white Vande Bharat trains.
While four routes are already declared, five more routes are being selected for running the semi-high speed trains on 24 September, a day after the end of the special session of Parliament.
Vande Bharat trains would be launched on Indore-Jaipur, Jaipur-Udaipur, Puri-Rourkela, Patna-Howrah and Jaipur-Chandigarh routes.
The Chennai-Tirunelveli, Ranchi-Howrah, Jamnagar-Ahmedabad and Chennai-Hyderabad routes were already announced earlier.
Union Railway Minister Ashwini Vaishnaw will be either in Odisha or Rajasthan for the launch.
Puri-Rourkela Vande Bharat will be the second such service in Odisha after the launch of Puri-Howrah Vande Bharat earlier.
While Rajasthan already has a Vande Bharat for Jaipur, the state is getting two more Vande Bharat trains this month.
Madhya Pradesh also has a Vande Bharat service for Bhopal, Jabalpur, Ujjain and now a new one will be added for Indore.
Currently there are 25 Vande Bharat trains operational across the country. With nine more being slated to be launched next Sunday, total number of such trains would go up to 34.