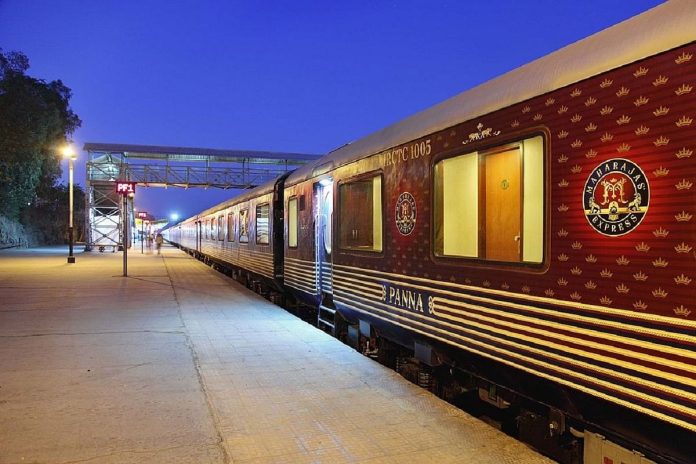 IRCTC organised an interactive session with senior delegates of embassies of different countries to promote rail-based tourism in India, with special emphasis on inbound tourism.
Indian Railways, through its subsidiary Indian Railway Catering and Tourism Corporation Limited (IRCTC), is promoting train-based tours catering to a wide cross section of people, whether it be Indians or foreigners, travelling on a budget or aiming for luxury alike.
IRCTC, tourism arm of Indian Railways, has a dedicated fleet of tourist trains of the luxury, deluxe and budget category.
They operate a multitude of special interest tour packages on several popular tourist circuits with an aim to promote rich culture and heritage of India.
To reach out to a larger audience and to the tourists across India, these train journeys are widely promoted through a mix of social, print and electronic media.
These tourism products are equally covered overseas as well, for not only the Indian Diaspora but also foreigners. IRCTC also participates regularly in international tourism marts and exhibitions, either independently or in association with the Ministry of Tourism.
Buddhist Circuit Tourist Train
The flagship inbound rail tourism product of IRCTC is the Buddhist Circuit Tourist Train, previously known as the Mahaparinirvan Express.
It was launched in 2007 with the sole purpose of attracting Buddhist pilgrims from across the world, to explore sites associated with the life and times of Lord Buddha spread over India and Nepal.
The all-inclusive seven nights and eight days itinerary starting at New Delhi covers the four key places associated with Buddhism — Lumbini (Buddha's birthplace) in Nepal, Bodhgaya (where he gained enlightenment), Sarnath (delivered his first sermon), Kushinagar (where he attained nirvana) in India and other sacred sites like Sravasti, Rajgir etc.
This circuit and the spiritual train journey interests mostly Asians and South East Asians like China, Thailand, Taiwan, Myanmar, Vietnam, Cambodia, Sri Lanka etc.
This fully air-conditioned deluxe tourist train rake comprises of state-of-the-art, ergonomically designed brand new LHB coaches with AC-I or AC-II options and equipped with modern amenities and facilities.
The train has two aesthetically designed dining cars along with a fully equipped kitchen-car, which serves an array of specialty international and local cuisines for the onboard guests.
Maharajas' Express
Later in 2010, IRCTC commenced operation of the leading luxury tourist trains in the country, the Maharajas' Express.
The 23-carriage long train houses four different types of accommodation — deluxe cabins, junior suite cabins, suites and presidential suites, which can house a total of 84 passengers at one go.
There are four specially curated itineraries on Maharajas' Express — Indian Splendour (6 nights/7 days), Heritage of India (6 nights/7 days), Indian Panorama (6 nights/7 days) and Treasures of India (3 nights/4 Ddays).
Some of the major destinations covered in these itineraries are Jaipur, Bikaner, Jodhpur, Udaipur, Agra, Fatehpur Sikri and others.
Bharat Gaurav Tourist Trains
To cater to the huge demand of the large domestic tourism market, Indian Railways introduced the Bharat Gaurav Tourist Train concept, wherein several theme-based circuits will be covered.
IRCTC is currently having a fleet of 10 Bharat Gaurav Tourist Train rakes based at various hub stations across India like Indore, Mumbai, Trivandrum, Hyderabad, Bilaspur, Delhi, Gorakhpur, Kolkata and Guwahati.
These trains comprise of newly made LHB coaches (modified as per tourist demand) and have a mixed composition of AC I, II, III and sometimes even sleeper class coaches to cater to the wide range of budgetary requirement.
Some of the important circuits covered by these trains which are widely accepted amongst Indians are Ramayana Circuit, North East Circuit, Guru Kirpa Circuit, Ambedkar Circuit, Chardham Circuit, Jain Circuit etc.
Since its inception, a total of 100 odd journeys have already been completed till date with a total of 60,000 passengers who have travelled onboard.
Recently, IRCTC organised an interactive session with senior delegates of embassies of different countries to further promote Buddhist Tourism and other rail-based tourism in India with special emphasis on inbound tourism.
There was detailed discussion on the various tourist trains which could open doors for spreading the word about these once in a lifetime experience and the on-board amenities.
The discussion also included other tour details, along with an exchange on possible areas of cooperation under the leadership of the ambassadors of countries including Japan, Myanmar, South Korea, Laos, Nepal, Bhutan and Thailand.
The objective of this interaction was to promote tourism in India through the various tourist trains and discussing areas of collaboration to attract inbound tourists to India.