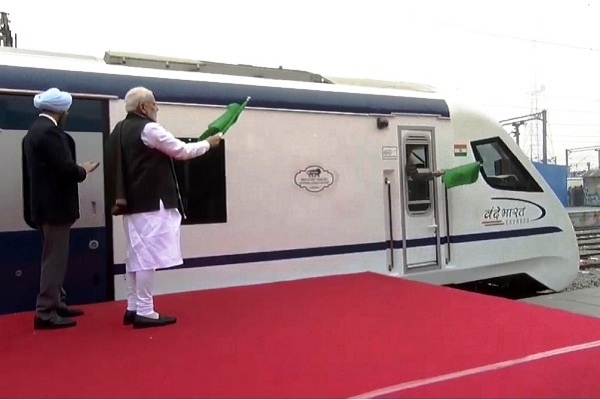 After the Vande Bharat and Namo Bharat trains, the government is set to launch the Amrit Bharat super-fast service to cater to passengers in some busy sections shortly.
The Amrit Bharat Express, to be hauled by push-pull locomotives, is a non-AC Sleeper cum Unreserved Class service designed to be cost-effective and cover longer distances compared to the air-conditioned Vande Bharat Express service.
Though the routes and destinations are yet to be finalized by Indian Railways, the Amrit Bharat services are likely to be introduced in the initial phase on Mumbai, Patna, and Chennai sections.
Currently, one rake of the Amrit Bharat Express, consisting of 22 coaches, is on a trial run, and the second rake is expected to be rolled out shortly.
In a push–pull train, two locomotives at both ends of a train are used simultaneously, controlled by one driver. This method allows the train to move faster, reducing detention time at stations and improving turnaround time.
The Amrit Bharat Express train comprises 22 coaches, including 12 Non-AC Sleeper Class, 8 General Unreserved Class, and 2 Luggage Coaches.
These coaches feature a sealed gangway for safe transitions between coaches and to reduce noise and vibrations. They are also equipped with CCTV cameras, bio-vacuum toilets, sensor-based water taps, a passenger information system, electric outlets, LED lights, and modernly designed fans and switches. Additionally, a mobile charging point is provided for every seat.
While push-pull locomotives are being manufactured in CLW, coaches are being produced in ICF Chennai.
These trains are planned to operate as day-night express services for busy cities.
The 22-coach trainset will be capable of accommodating approximately 1,800 passengers throughout its journey.