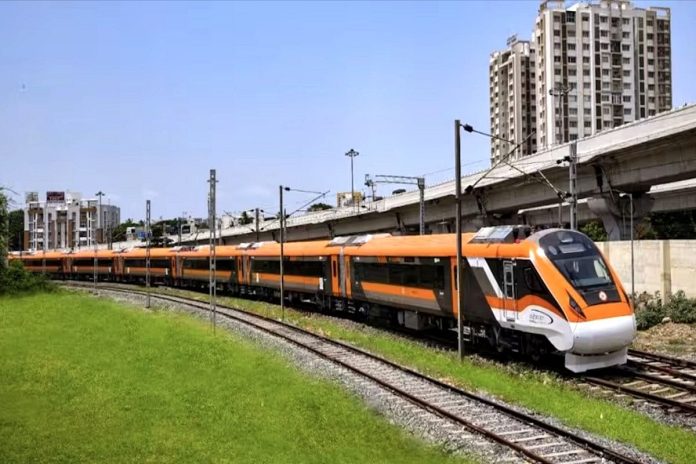 In early 2024, Indian Railways is all set to introduce the Vande Metro, a new venture aimed at providing premium short-distance travel.
This project was initially unveiled by Railway Minister Ashwini Vaishnaw during the post-Budget 2023 railway briefing, drawing inspiration from the successful Vande Bharat Express trains.
The Vande Metro is designed to offer a swift, air-conditioned commuting experience for shorter journeys, reaching speeds of up to 130 kmph.
BG Mallya, the General Manager of Integral Coach Factory (ICF), shared insights about the project, explaining that the Vande Metro trains are tailored for travel distances of up to 300 kilometres.
Essentially, the Vande Metro serves as a replacement for the Mainline EMU, specifically catering to shorter routes spanning 250 to 300 kilometres.
The production of the inaugural Vande Metro train has already commenced, with plans for a January 2024 rollout, according to the ICF GM, reports Economic Times.
Features of the Vande Metro trains
Notable features of the Vande Metro trains include their resemblance to the Vande Bharat Express, with the primary distinction being the availability of standing room. Each coach can accommodate 100 passengers in seats and an additional 200 in standing positions, ensuring efficient and comfortable travel.
Sealed Gangways: The gangways between coaches are fully sealed, enhancing safety and passenger experience.
Lightweight Design: The train features a lightweight car body and modern, cushioned seats for a comfortable ride.
Automatic Doors: Each coach is equipped with four sets of wider automatic plug-in doors for efficient boarding and disembarking.
Aerodynamic Design: The driving end of the train is aerodynamically designed, contributing to its efficiency and aesthetics.
Advanced Technology: The Vande Metro includes CCTV cameras, a Passenger Information System (PIS) with LCD displays, diffused lighting, and route indicator displays.
Safety Features: An automatic fire detection and alarm system ensures passenger safety.
Windows: The trains offer wider panoramic sealed windows with roller blinds for a pleasant journey.
Emergency Communication: An Emergency Talk Back Unit is provided for passenger safety.
Toilet Facilities: The train includes modular toilets with a vacuum evacuation system for hygiene and convenience.
Luggage Space: Light aluminium luggage racks are available for storing passenger belongings.
Anti-Collision System: The KAVACH train anti-collision system enhances safety during travel.
Accessibility: A toilet for Persons with Reduced Mobility (PRM) is available in the driving car to ensure inclusivity.