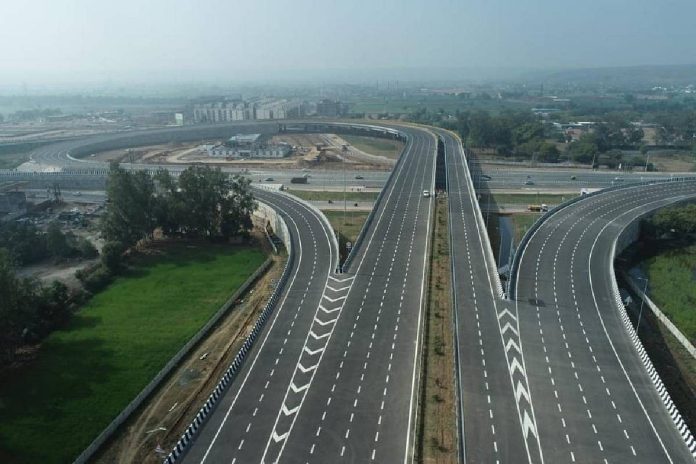 The National Highways Authority of India (NHAI) is set to begin construction on a 86.5km access-controlled highway that will link the Trans-Haryana Expressway with the Delhi-Mumbai Expressway.
The Trans-Haryana Expressway, spanning 227km, connects Narnaul in southern Haryana to Ambala near Chandigarh.
The new greenfield link expressway, budgeted at Rs 1,400 crore, will be built form the southern end of the Trans Haryana Expressway, connecting Paniyala to Alwar in Rajasthan.
NHAI officials said the tender for the construction of this access-controlled expressway has been awarded and the work will commence soon. The highway authority had received 29 bids for the project, reports Hindustan Times.
"The transfer of land to NHAI for construction of the connecting highway will be completed soon and we are working on ensuring that the work starts at the earliest. The project will be completed within two years from commencement of work," said Mukesh Kumar Meena, project director, NHAI.
Once complete, travellers from Jammu and Kashmir, Himachal Pradesh, and Punjab can take the Trans-Haryana Expressway (NH152D) before connecting to NH-148B in Narnaul.
This will lead them to Paniyala at the Haryana-Rajasthan border, where the proposed access-controlled road will directly connect with the Delhi-Mumbai Expressway at Barodameo, Alwar.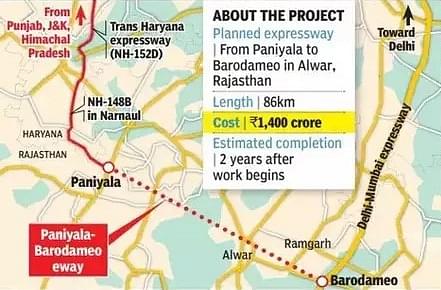 Proposed Alignment of the Link. (Source: TOI)
This new connection will significantly shorten the commute between northern states and Mumbai.
It aims to make the Delhi-Mumbai Expressway more accessible to additional Haryana districts while also reducing the distance from Chandigarh to Jaipur and alleviating congestion on NH-44 (Srinagar to Kanyakumari).
The 227km Trans-Haryana Expressway (NH-152D) was opened to traffic in August 2022 and passes through various towns and regions, including Kaul, Pundri, Assandh, Dhatrath, Kalanaur, Charkhi Dadri and Kanina.
The area surrounding the expressway is being developed into an industrial corridor named the Ambala-Kotputli Economic Corridor.
Further, the 1,386-km-long Delhi-Mumbai Expressway is on a fast track to completion. The project has achieved milestones in Madhya Pradesh, Gujarat, Rajasthan and Maharashtra.
Once finished, this expressway will reduce the travel time between Delhi and Mumbai from the current 24 hours to just 12 hours and also trim the journey distance from 1,424 km to 1,242 km.