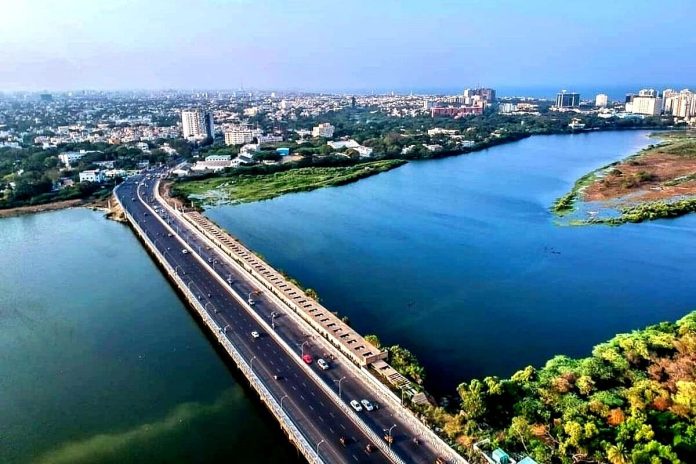 The Chennai Metropolitan Development Authority (CMDA) is currently conducting approximately 15 studies, set to conclude by November, to formulate the Third Master Plan (2027 – 2046) for the Chennai Metropolitan Area (CMA).
The comprehensive plan aims to address issues such as transport and infrastructure in order to make the city a progressive, inclusive and global city.
A city masterplan is a blueprint that guides the future growth and development of a city. It encompasses various elements such as land use zoning, buildings, civic infrastructure, transportation, and social settings.
The process of creating a masterplan includes analysis and proposals based on the unique characteristics of the region.
Chennai Metropolitan Area (CMA) extends over 1189 sq.km. and comprises of Chennai Corporation, eight municipalities, 11 Town Panchayats  and 179 villages covered in 10 Panchayats Unions.
CMA is the focal point of CMDA's planning efforts. The state government had previously authorised an extension of CMDA's jurisdiction from 1,189 square kilometres to 5,904 square kilometres.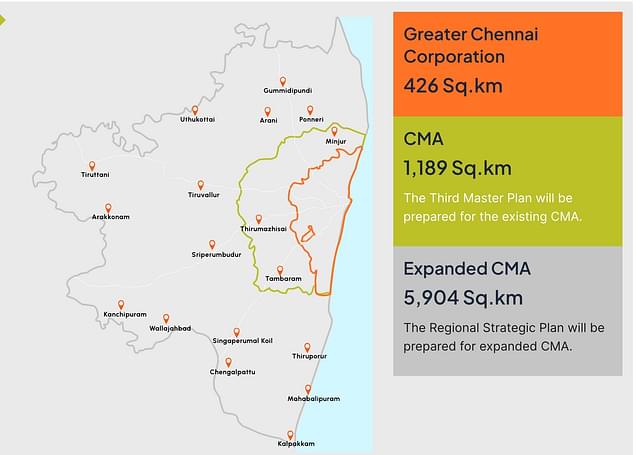 Chennai Metropolitan Area (CMA official website)
While the Third Master Plan is being devised for the existing 1,189 square kilometres, the remaining area will be subject to the formulation of a Regional Strategic Plan.
Additionally, specific Master Plans will be developed for satellite towns and growth centres like Thirumazhisai, Kancheepuram, Chengalpattu, Minjur, and Tiruvallur.
Notably, this new plan places a strong emphasis on economics, as CMDA is focused on identifying key priority areas and investment zones. This pertains not only to the commercial sectors but also extends to various other industries, alongside the enhancement of amenities.
To facilitate this, the Indian Institute of Human Settlements (IIHS) has been enlisted to perform a spatial distribution analysis concerning employment and income categories.
Furthermore, CMDA will assess requirements based on a study titled 'Formulation of Comprehensive Flood Control Master Plan in Urbanized River Basins in Chennai,' a collaborative effort between the Japan International Cooperation Agency (JICA) and the Greater Chennai Corporation (GCC).
The key implementing agencies for this initiative are CMDA, GCC, the Disaster Risk Reduction Agency (DRRA), and the Water Resources Department (WRD). In this regard, JICA will be responsible for delineating the terrain contours and runoff patterns, with an emphasis on buffer zones around water bodies, as per an official statement.
CMDA's endeavours extend to an examination of the blue-green infrastructure (BGI) within the city. This evaluation is aimed at urban environment management, disaster risk reduction, climate change adaptation, and, notably, enhancing urban flood resilience.
CMDA officials have stated that previous efforts in flood-prone areas, such as Velachery, have yielded positive results in recent years, and they anticipate similar successes in Perumbakkam, reports The Hindu.

Chennai Metropolitan Area official website
First master plan for CMA (1976-2001) aimed to decongest the city, increase the economy at state and metropolitan level.
Second master planfor CMA (2008 – 2026) vision was to make Chennai a prime metropolis, which will become more livable, economically vibrant, environmentally sustainable and with better assets for the future generations.
The creation of the third masterplan for Chennai will act as a substantial roadmap in enhancing the city's infrastructure and tackling critical challenges like transportation, environment, and urban growth.