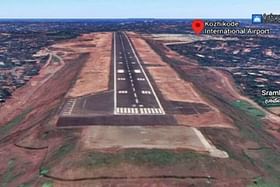 The first tabletop airport of Uttar Pradesh at Chitrakoot is likely to be operational in the coming months.
Constructed at the cost of Rs 146 crore, it will be the first operational airport in Bundelkhand, giving a big boost to tourism and pilgrimage especially in this temple town.
The new airport will be managed by the Airport Authority of India (AAI) as part of an agreement with the Uttar Pradesh government.
A 20-seater aircraft will also start flying from Chitrakoot under the Centre's UDAN (Ude Desh ka Aam Naagrik) scheme.
According to a government spokesman, "currently, the work on approach roads is going on at the airport construction site and it will take some months to finish that work".
Prime Minister Narendra Modi, who has been giving special impetus on the development of Bundelkhand region, may inaugurate the airport project once it is ready.
Tabletop Airport
A tabletop airport is situated and constructed on top of a plateau or steep terrain, with one or both runway ends looking down over a drop.
Lengpui (Mizoram), Shimla and Kullu (Himachal Pradesh), Pakyong (Sikkim), Mangaluru (Karnataka), Kozhikode and Kannur (both Kerala) are the airports in the country considered as tabletop airports.
There is no reference to a "tabletop airport" in any International Civil Aviation Organization (ICAO) technical document, according to a retired aviation official.
However, the Directorate General of Civil Aviation (DGCA), India's statutory aviation regulator refers to these airports in this manner to emphasise safety procedures during operations at these runways.
The most crucial parts of any aircraft operation are the landing and take-off phases. The pressure is significantly greater for the pilots, on runways with little room for manoeuvring like the tabletop runways.
Chitrakoot Airport
Chitrakoot means the 'Hill of many wonders'. Chitrakoot falls in the northern Vindhya range of mountains spread over the states of Uttar Pradesh and Madhya Pradesh.
Legend has it that Chitrakoot was the place where Lord Ram, his wife Sita and his brother Lakshman spent a major part of their exile time (around 11 years).
According to the epic Ramayan, it is the place where Bharat, brother of Lord Rama came to visit him and asked him to return to Ayodhya and rule the kingdom. It is believed that the supreme gods of Hinduism, (Brahma, Vishnu and Shiva) took incarnations here.
The place is dotted with many temples and several religious sites such as Kamad Giri, Hanuman Dhara, Janki Kund, Lakshman Pahari and Devangana.