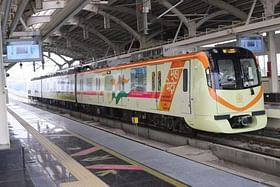 Almost a year after the ground-breaking ceremony, the Maharashtra Metro Rail Corporation Limited (MMRCL) is gearing up to commence work on Phase II of Nagpur Metro starting next week.
Phase II consists of four extensions of the existing two corridors covering a total distance of 43.8 km.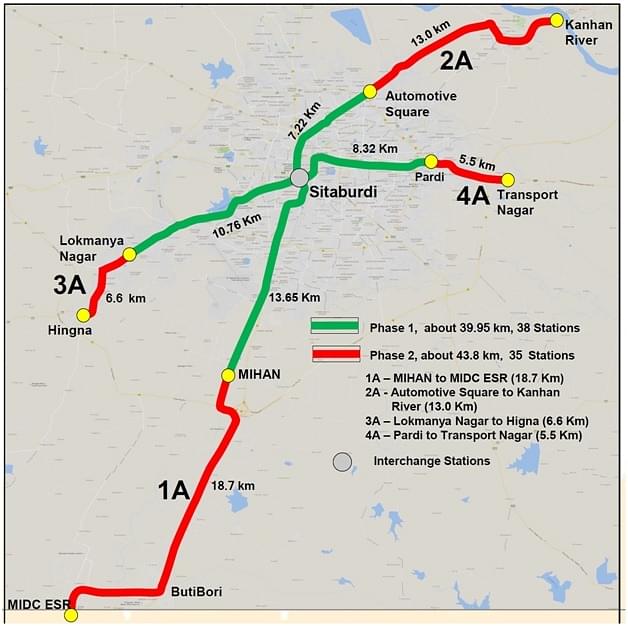 Nagpur Metro Phase – II Map (MMRCL)
The elevated Reach 2A, spanning 13 kilometers, will extend the Nagpur Metro's 19.658 km Orange Line in a north-eastward direction from Automotive Square to Kanhan River, via 12 elevated stations.
Similarly, Reach 1A, covering a length of 18.7 kilometers, will expand the Orange Line in a north-westward direction from MIHAN to Butibori MIDC-ESR, through ten stations.
In addition, the 18.5 km Aqua Line is set to undergo two extensions: a 6.7-kilometer stretch from Lokmanya Nagar to Hingna in the west (Reach 3A) and a 5.5-kilometer segment between Prajapati Nagar and Kapsi in the east (Reach 4A).
Earlier in February 2023, MMRC issued tenders for the appointment of a consultant to conduct Environmental Impact Assessment (EIA) and prepare an Environmental Mitigation Plan (EMP) for the 43 km network under Phase II.
Rail Vikas Nigam Limited (RVNL), the railway public sector undertaking (PSU), has secured the first contract for the second phase. Furthermore, MMRC is actively working to finalize three additional tenders.
Rs 6700 Crore Project
The overall expenditure for the second phase amounts to more than Rs 6,700 crore. Of this, Rs 3,100 crore is provided as equity, jointly contributed by the central and state governments.
Additionally, the Maharashtra Metro Rail Corporation has secured a loan of Rs 3,586 crore from the Asian Development Bank (ADB) based in Manila and the European Investment Bank (EIB).
The ADB is contributing $200 million, while the EIB is investing 239 million Euros, totaling over Rs 3,500 crore for the project.
The Phase II will be connecting satellite cities of Nagpur and when it is operational the total length of Nagpur Metro would come to 82 km.
The foundation stone of Nagpur Metro Phase II was laid down by the Prime Minister on 11 December 2022 and is targeted to be completed by June 2027.