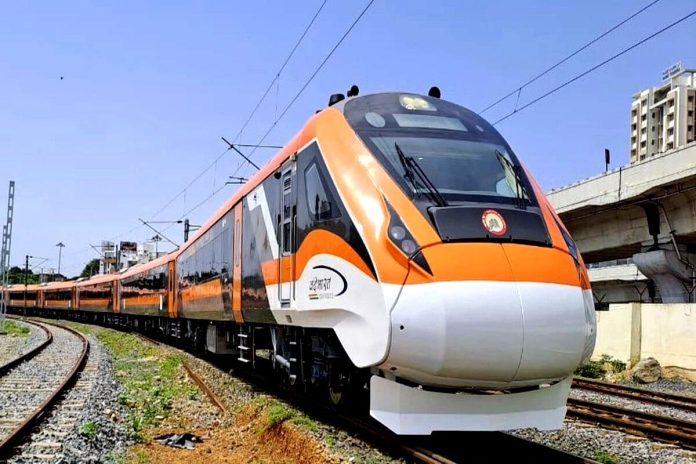 The Indian Railways has firmed up plans for increasing the base fare of the proposed Amrit Bharat push-pull train by 15 per cent, in comparison to the Mail/Express trains.
Besides the base fare, other charges like superfast surcharges and reservation fee as applicable will be levied separately.
The Railways has decided to run the first push-pull non-AC train, with 22 LHB coaches, between Delhi-Patna with higher speed and modern amenities.
Since the input cost of the push-pull train is more, it has been decided to increase the fare slightly, the Railways maintains.
Coaches of the push-pull train will have special features like horizontal sliding windows, semi permanent couplers between coaches, dust sealed wider gangways, aerosol based fire suppression systems in toilets and electrical cubicles, emergency disaster management light and floor guide fluorescent strips.
Since there will be improved couplers between the coaches, it will be a jerk-free ride to provide more comfort to passengers.
The push-pull train will have additional modern facilities like CCTV surveillance system, passenger information system, electronic destination board, mobile charging point at each seat, and divyang-friendly toilet with pressurised flushing system, among others.
There will be non-AC sleeper class and unreserved second class
coaches on the train.
CRIS, the Railways software arm, has been asked to make necessary arrangements for the push-pull trains.
In a push–pull train, two locomotives at both ends of a train are used at the same time, being controlled by one driver.
The train moves faster in push-pull method and detention time at stations is reduced, improving turnaround time. Since both locomotives will be of 5,500 HP capacity each, the 22-coach train is expected to haul faster.
The push-pull trains are expected to run on long distance overnight journeys. The push-pull coaches are being manufactured at ICF Chennai. The Banaras Locomotive Works at Varanasi has floated a tender for manufacturing of 100 push-pull locomotives.