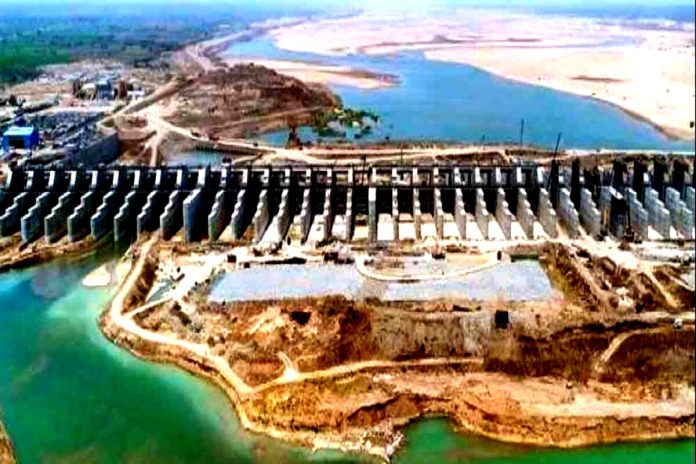 In response to the pillar sinking incident at the Medigadda (Laxmi) Barrage within the Kaleshwaram project in Telangana, the National Dam Safety Authority (NDSA) has taken action.
In accordance with the Dam Safety Act 2021, the authority has constituted a six-member committee to investigate the root causes of this occurrence.
The primary objective of this committee is to engage with all relevant stakeholders, including state government officials and the construction agency, in order to conduct a comprehensive examination of the incident.
It is expected that a detailed report elucidating the reasons for the pillar sinking will be available shortly.
Union Tourism Minister G Kishan Reddy has communicated with Union Jal Shakti Minister Gajendra Singh Shekhawat, urging the Dam Safety Authority to conduct a thorough on-site investigation, reports Financial Express.
Reddy brought to Shekhawat's attention the incident of pillar sinking at the 6th to 8th blocks of the Medigadda (Laxmi) Barrage on 21 October, along with reports of substantial noises emanating from the barrage gates.
The concerns and investigations surrounding this incident are of utmost importance. Reddy emphasised the significant release of 10 TMC of stored water into the sea due to the pillar sinking, resulting in the wastage of water resources originally intended for drinking and irrigation purposes.
The ongoing issues with the Kaleshwaram project, including the submergence of pump houses, have been raised as critical matters that necessitate a thorough examination to ensure public safety.
Larsen & Toubro (L&T), the construction company responsible for the Medigadda (Laxmi) Barrage, has deployed a team of technical experts to investigate the sudden cause of the damage.
Kaleshwaram Lift Irrigation Project
The Kaleshwaram Lift Irrigation Project is a comprehensive initiative with the primary goal of rendering Telangana impervious to drought conditions by harnessing the excess floodwaters of the Godavari River. This ambitious project serves multiple purposes and is centred around the Godavari River in the Kaleshwaram region of Bhoopalpally, Telangana.
The project commences at the point where the Pranahita River and the Godavari River converge.
Telangana's topography ranges from approximately 300 metres to 650 metres above mean sea level, while the River Godavari flows at an elevation of around 100 metres below mean sea level. This significant difference in elevations necessitates the use of large-scale pumps for the purpose of water management.
To address this challenge, a barrage has been constructed at Medigadda in the Jayshankar Bhupalpally district. At this location, the water is reversed and then pumped back into the main channel of the Godavari River.
From there, it is directed through an intricate and extensive system of reservoirs, water tunnels, pipelines, and canals using various lifts and pumps. This complex infrastructure is designed to efficiently manage the flow of water and ensure the distribution of water resources across the region.