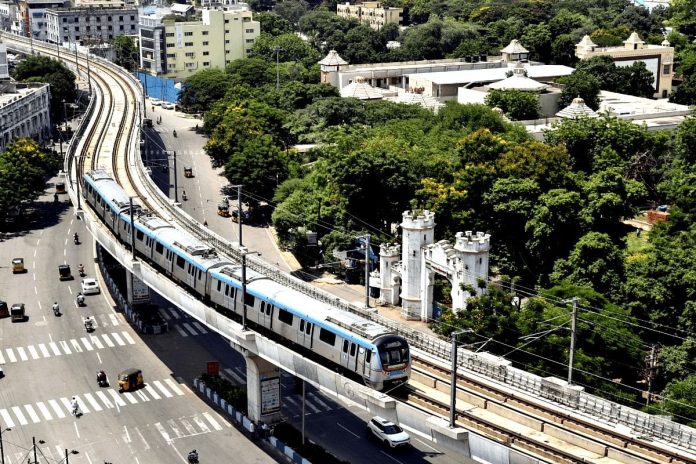 The citizens of the twin cities of Hyderabad and Secunderabad have been eagerly anticipating the commencement of two major metro projects, namely the Hyderabad Airport Metro and the pending metro line from MGBS (Imlibun) to Falaknuma in the Old City.
However, due to the Model Code of Conduct coming into effect after the announcement of the 2023 Telangana Assembly polls schedule by the Election Commission of India (ECI), these projects will have to remain on hold until the formation of the new government in December.
The elections are scheduled for 30 November 2023, with vote counting set for 3 December 2023.
Many people had high hopes that construction on these crucial public transportation infrastructure projects would commence before the announcement of election dates, especially considering that Chief Minister K Chandrashekar Rao had laid the foundation stone for the Airport Metro in December of the previous year.
Hyderabad Airport Metro Limited (HAML), a special purpose vehicle of the government, had already completed the tendering process and shortlisted L&T and NCC firms for the engineering, procurement, and construction (EPC) contract worth Rs 6,250 crore for the 31 km route. The bid opening took place in mid-July.
The Airport Metro, beginning at the Mindspace Junction and extending to the Rajiv Gandhi International Airport (RGIA) passenger terminal in Shamshabad, features a predominantly overhead viaduct, with some sections on the ground and underground.
Simultaneously, in July, the previously stalled 5.5 km Old City metro line project was also revived after overcoming political obstacles. Final alignment drawings for this segment were nearing completion, allowing for land acquisition notices to be sent to the approximately 1,000 affected property owners.
However, there was uncertainty regarding the funding source, whether it would be L&T Metro Rail Hyderabad (L&TMRH) or the government, reports The Hindu.
There was considerable excitement about commencing work on both projects at the proposed depot land in Falaknuma and at Raidurg. Yet, just when everyone expected the cabinet to approve the projects, there was an unexpected pause. With the onset of pre-election activities and the official poll notification, progress will remain at a standstill until the following year.
Several key decisions were put on hold due to the Chief Minister's indisposition, and until the state cabinet clears the projects and an official government order is issued, work on the ground cannot proceed, according to top officials. Consequently, the wait for the next phase of the metro rail has been extended.