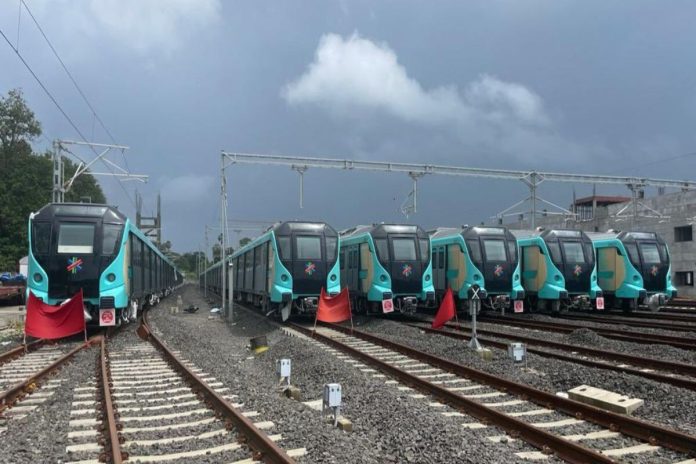 The ninth rake designated for the Metro 3 Colaba-Bandra-Seepz line has recently arrived in Mumbai and is scheduled to reach the Aarey car shed by 1 November.
This crucial addition means that the Mumbai Metro Rail Corporation (MMRC), responsible for overseeing this underground corridor, will soon possess all the necessary train sets to kick off Phase I operations, connecting Aarey to the Bandra-Kurla Complex.
MMRC's strategy involves running a total of 110 services along the 12km Phase I route, promising a quick 25-minute travel time. They have already established stabling lines at the depot to accommodate these train sets.
A representative from MMRC mentioned, "The rake has now reached the outskirts of Mumbai."
The official further explained, "Trials for the train sets are slated for mid-November. Following these, we will approach the Research, Design and Standards Organisation (RDSO) to initiate their assessments."
Once the RDSO trials are successfully completed, MMRC will seek an inspection from the Commissioner of Metro Rail Safety (CMRS) to assess the entire network's safety. Commercial operations will commence once CMRS gives the green light.
The 33.5-km long Metro-3 corridor running along Colaba-Bandra-SEEPZ is the first underground metro corridor of Mumbai. It will connect Cuffe Parade business district in the extreme south of the city to SEEPZ in the north-central with 26 underground and one at-grade station.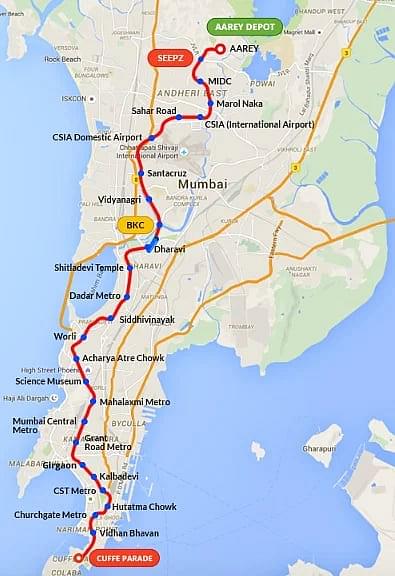 Mumbai Metro Line 3 Route Map ( MMRCL)
Initially, these trains will operate with a pilot onboard. However, MMRC plans to request CMRS approval to run the trains in a fully driverless mode after a few months of operation, as per The Times Of India report.
On 7 October, an initial trial run was successfully executed for the first time between the MIDC-Vidyanagari-Seepz Metro stations, covering a distance of approximately 17km during the test.
The new train set is equipped with an unattended train operation (UTO) system, fully automating starting, stopping, door operation, and handling of emergencies without the need for onboard staff. Train health is continuously monitored from the control room to ensure it can operate in a driverless mode.
Furthermore, trainsets for the Metro 3 Aqua line will feature a regenerative braking system, significantly reducing carbon emissions and contributing to a more sustainable transportation system.
MMRCL had initially planned to start Phase 1 operations by December this year. However, with a trial run slated for November, Phase 1 operations will now be delayed till next year.
The second phase between BKC and Colaba that was set to begin after six months of Phase 1 operations, likely by May 2024, will also be delayed.