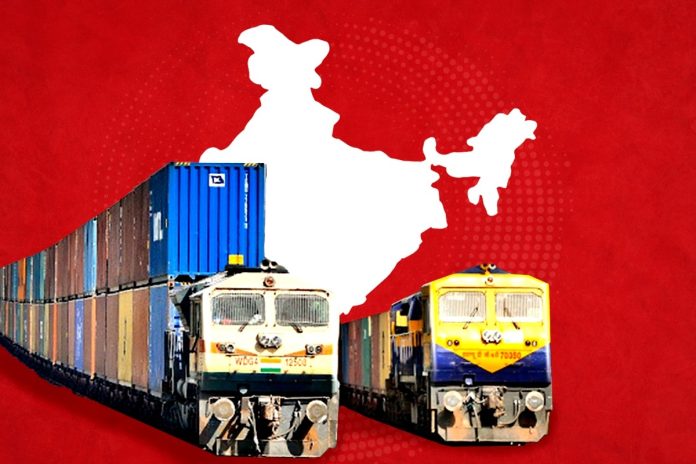 While two major DFCs are under construction in the eastern and western parts of the country, South India still lacks its dedicated freight corridor.
India's burgeoning economy relies heavily on the efficient transportation of goods. To facilitate this, the Dedicated Freight Corridor (DFC) project was initiated to create specialised rail routes for freight, enhancing connectivity and reducing transit times.
This monumental project stands as one of the most ambitious railway initiatives since India's independence.
Prime Minister Narendra Modi inaugurated the DFC network on 12 December 2020, hailing it as a game changer for India in the 21st century and a catalyst for rapid national development.
The DFC project is strategically aligned with the National Rail Plan, which sets a bold objective: to increase the railway's modal share in India from the existing 28 per cent to an impressive 44 per cent by the year 2051.
Crucially, the DFC is not just a railway project; it's a linchpin of the National Logistics Policy, aiming to reduce logistics costs from the current 15 per cent of GDP to a more sustainable 8 per cent by 2030.
While two major DFCs are under construction in the eastern and western parts of the country, South India still lacks its dedicated freight corridor.
South India boasts a robust manufacturing and agricultural sector, including significant industries in information technology, automotive, textiles, and more.
These sectors rely on efficient transportation networks for the timely and cost-effective movement of raw materials and finished goods.
Currently, most of South India's freight is transported using the existing rail network, which is shared with passenger trains, leading to capacity constraints and slower transit times.
Potential DFCs
1. Chennai-Ennore-Krishnapatnam to Bengaluru DFC:
This can offer a strategic link between the eastern and western coasts and the heart of India's technology and manufacturing hub.
This region hosts several ports along the east coast that serve not only as international gateways but more importantly as critical links in the supply chain. Ports are a source of value creation for firms that provide services – ranging from logistics to packaging – to production clusters and distribution centres and play a significant role in economic development.
It will play a critical role in driving India's new "Act East Policy." This DFC has potential to facilitate the movement of a wide range of commodities and products.
Traffic Potential:
The corridor is set to cater to a wide range of industries:
Machinery and Electrical Machinery.
Automobiles.
Textiles and Apparel.
Food Processing.
Chemical & Petrochemicals.
Pharmaceuticals.
The corridor has the potential to play a vital role in driving over 50 per cent of the exports from the region, with automobiles and the computer, electronic, and optical products (CEO) sector leading the way.
2. Vizag-Vijayawada-Chennai-Coimbatore DFC:
The DFC that links Vizag, Chennai, Vijayawada, and Coimbatore addresses the critical need for efficient freight transport in the southern regions.
Vizag, one of India's largest ports, serves as the entry point for the corridor. Its strategic location on the eastern coast makes it a pivotal hub for international trade and cargo handling.
Vijayawada, located on the banks of the Krishna River, is a major transportation and trade hub. Its geographical position enhances connectivity with both coastal and inland regions.
Chennai, a bustling metropolitan city and major port, acts as a central hub on the corridor. Its industrial prowess and connectivity make it a vital link in the transportation chain.
Coimbatore, known as the Manchester of South India, marks the culmination of the corridor. Its diverse industrial base, including textiles and engineering, makes it a key destination for freight transportation.
Traffic Potential:
Machinery and Electrical Machinery: The corridor facilitates the efficient transportation of machinery and electrical equipment, supporting industries involved in manufacturing, assembly, and production.
Textiles: Coimbatore, renowned for its textile industry, benefits significantly. The DFC ensures swift movement of textiles and related products, enabling timely deliveries to national and international markets.
Pharmaceuticals and Food Products: Pharmaceuticals and food industries in the region gain from the corridor's efficient transportation. Quick access to markets ensures freshness and quality, enhancing the competitiveness of these sectors.
Other traffic potential includes Thermal Power Plants (TPP), Petroleum Oil Lubricants (POL), Container Corporation (CONCOR) Inland Container Deports (ICDs), Food Corporation of India (FCI) godowns, Fertilisers etc.
These industries depend extensively on the railways for the transportation of raw materials and the distribution of their finished and semi-finished goods to both domestic markets and seaports along the eastern seaboard.
This development will not only create jobs but also stimulate economic growth in areas that have traditionally lagged behind in industrialisation.
3. Tuticorin – Kochi – Mangaluru DFC (can be extended to Goa)
Tuticorin, a major port city in Tamil Nadu, serves as the gateway to international trade. The corridor will help facilitate Tuticorin Port, facilitating efficient handling of imports and exports.
Kochi, a significant port city in Kerala, serves as the entry point to the state. The corridor enhances the connectivity between Kerala and other southern states, fostering economic exchange.
Mangaluru, a major port city in Karnataka, marks the culmination of the corridor. Situated on the Arabian Sea coast, Mangaluru facilitates maritime trade and connectivity to global markets.
By freeing up existing rail tracks, the DFC will enhance the speed and reliability of passenger trains on high-demand routes, ultimately improving the overall quality of rail services in the region.
Traffic potential
Petrochemicals and processing.
Special Economic Zones (SEZs), including the ONGC – Mangalore SEZ.
Fertilizer manufacturing (Mangalore Chemicals & Fertilizers).
Oil refineries.
Logistics and shipping.
Pharmaceuticals.
Food processing.
Chemical industries.
Textiles.
Fishing and seafood processing (Cochin Fishing Harbour)
These Dedicated Freight Corridor projects will not only unlock economic potential but also play a critical role in decongesting the already saturated road network. By promoting the shift of freight transport to the more efficient rail transport system, these corridors will significantly reduce congestion on highways.
Moreover, this modal shift is expected to result in a substantial reduction in Greenhouse Gas (GHG) emissions in the Indian transport sector, contributing to a more sustainable and environmentally responsible transportation infrastructure.
These corridors stand as a beacon of progress, addressing both economic and environmental challenges, as India continues its journey toward a greener and more prosperous future.