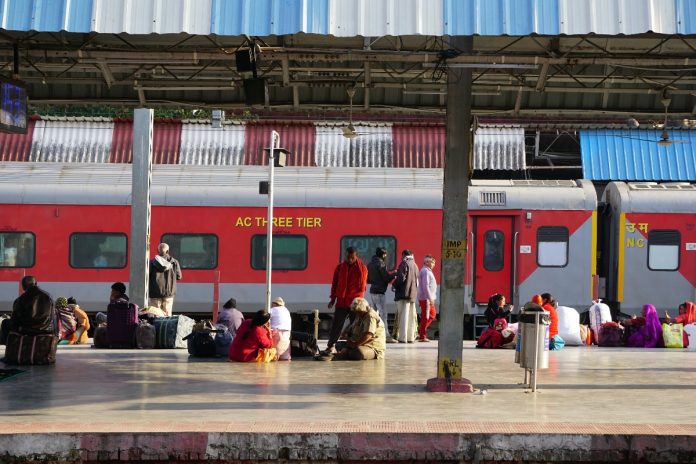 The Indian Railways has proposed a Rs 4.2 lakh crore mega plan for multi-tracking of seven high-density corridors for the introduction of faster passenger trains and quicker movement of freight.
The corridors — Delhi-Howrah, Mumbai-Howrah, Delhi-Mumbai, Delhi-Guwahati, Delhi-Chennai, Howrah-Chennai, and Mumbai-Chennai.
In a proposal for the Union Cabinet, the Railway Ministry said that the programme, spread over the next 10 years, from 2024-25 to 2023-34, will involve doubling and laying of the third and fourth lines on different stretches of these corridors as per the traffic demand.
The plan also includes construction of flyovers and underpasses.
The proposal assumes significance as the Railways plans to introduce more modern Vande Bharat trains with sleeper facilities that have a maximum design speed of 220 kilometres per hour (kph).
It is being learnt that the Railways has identified 213 such projects that need to be undertaken on these corridors, which have breached the saturation point, and 200 such works will be completed in the first phase.
For faster decision-making, the national transporter has proposed more financial powers to the Railway Board and the Minister.
Sources said the main reason behind the proposal to pump in huge government investment in the seven corridors is to increase capacity for running more trains.
While the combined length of these corridors is 10,969 km, barely 16 per cent of the entire Indian Railways network, these stretches cater to 41 per cent of traffic.
This has resulted in huge pressure on these corridors, leaving hardly any room for introduction of more trains or increasing their speed, sources said.
The Railway Ministry has cited how because of the increased pressure, the average speed of freight trains is around 18-20 kph, while in the developed world it's around 50 kph.
It has also flagged how slow movement of freight trains has a direct impact on the logistics cost.
The income from freight movement is the mainstay of railway finances and this revenue compensates the loss that the Indian Railways incurs on account of passenger transportation.
The national transporter has also mentioned in its proposal that the current share of the Railways in total freight movement is barely 27 per cent, while the share of goods transported by road is nearly 70 per cent.
It has said if the share of railways in cargo transportation increases to 35 per cent, it will help save around 5.2 per cent of the overall logistics cost.
India has set a target to bring the logistics cost down to a single digit from the current level of 14 per cent.
The Railways has also set a target to double freight movement to 3,000 million tonnes by 2030.