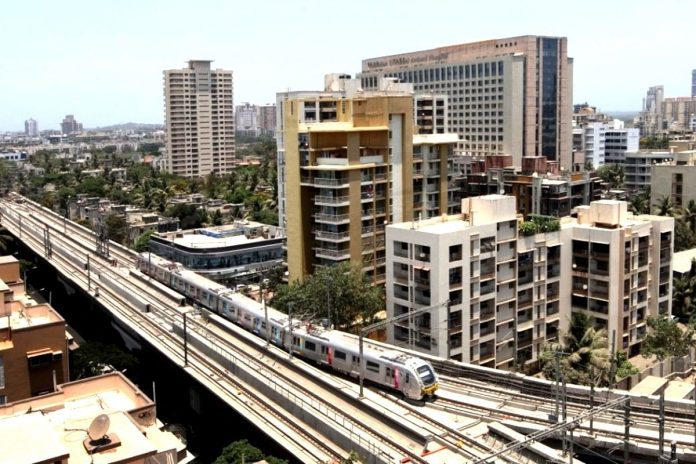 The Mumbai Metro Rail Corporation Limited (MMRCL) on Sunday (08 Oct) successfully carried out the first long-distance trial of the much-awaited Metro line-3.
Train movement was successfully carried out between MIDC and Vidyanagari metro station on the underground corridor covering a distance of eight km across six stations.
The train finally rolled back to SEEPZ covering a total distance of around 17 km during the run.
On the occasion, the MMRC posted a video of the tunnel as seen from the driver's cabin on X (formerly twitter), along with photographs of the train's interiors.
"The milestone demonstrates the culmination of infrastructure work related to tracks, overhead contact system (power line for trains), rolling stock, and structures like platform screen doors," said an MMRCL spokesperson.
The 33.5-km long Metro-3 corridor running along Colaba-Bandra-SEEPZ is the first underground metro corridor of Mumbai. It will connect Cuffe Parade business district in the extreme south of the city to SEEPZ in the north-central with 26 underground and one at-grade station.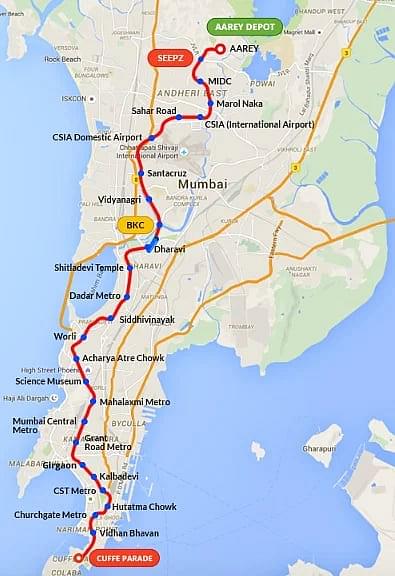 Mumbai Metro Line 3 Route Map ( MMRCL)
The trial run marks an important development in the realisation of the Metro track shrouded in controversy. MMRCL is planning to start services by the year-end between Aarey Colony and Bandra-Kurla Complex (BKC) by December 2023.
The second phase between BKC and Colaba would take another six months and may be completed by mid-2024.
Earlier in August 2022, Maharashtra Chief Minister Eknath Shinde and Deputy CM Devendra Fadnavis had flagged off the short-distance trial for the first prototype rake.
The trials were conducted on a 3-km stretch between Sariput Nagar in Aarey and Marol Naka.
Based on the success of the 'initial design proving train trial runs', a dispatch clearance was given by MMRCL for subsequent trains, which have been manufactured at Alstom's facility in Sri City, Andhra Pradesh. The trains are equipped with a regenerative braking system to minimise carbon emissions.
The Mumbai Metro Rail Corporation Limited has already received eight out of nine trainsets required for the first phase of operation, with the remaining expected by the month-end.